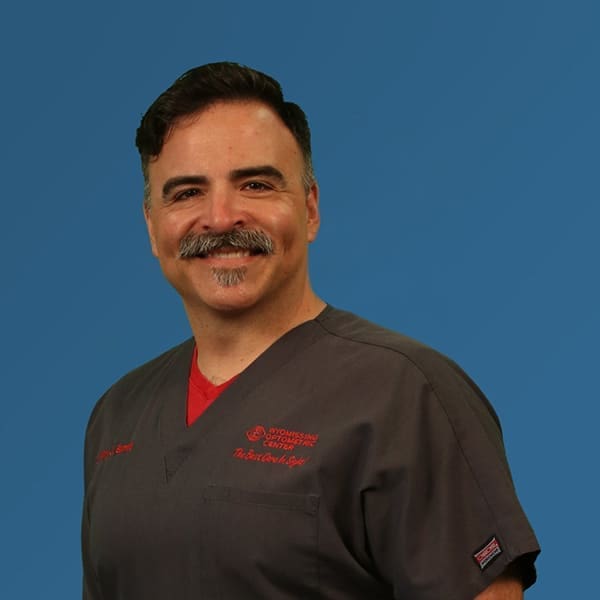 Dr. Burrell exudes confidence and calmness in caring for his patients. He is highly respected and engages his patients in their care through extensive patient education. Dr. Burrell earned a B.A. in Philosophy from University of Scranton and a B.S. in Visual Science and O.D. degree from the Pennsylvania College of Optometry. He serves on the Allied Health Medical Staff at Penn State Health St. Joseph Medical Center (inpatient consults and Emergency Department eye care).
Dr. Burrell enjoys primary eye care with special interest in ocular disease management and advanced contact lens care. He is recognized for his success with complex contact lens cases including multifocal lens designs, refractive corneal reshaping (Orthokeratology) and keratoconus. He serves as a Clinical Investigator for numerous pharmaceutical companies in conducting clinical trials to test new medications and devices. As an InfantSee provider, Dr. Burrell offers free vision and eye health exams to infants ages 6-12 months old. Dr. Burrell is a VisionUSA doctor who provides free eye care to the working poor who are screened and referred by the Salvation Army. He has lectured nationally on a number of ocular disease topics.
Dr. Burrell serves our community as a member of the Masonic Union Lodge, Birdsboro and the Scottish Rite Cathedral Valley of Reading. One of Dr. Burrell's passions is performing (guitar and singing) and he was named the Associate Producer for "The Wings of Hope Cancer Benefit Concert", an annual fundraising event in Douglassville.