Trusted guidance with exceptional pre and post-operative care.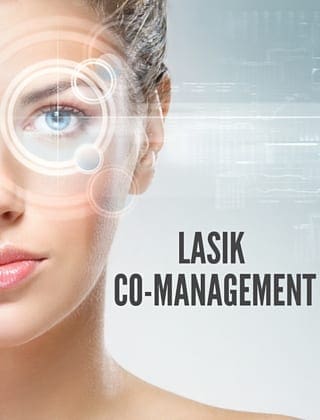 Refractive surgery includes several types of vision-correcting surgeries, most commonly LASIK (laser-assisted in-situ keratomileusis) and PRK (photorefractive keratectomy). Both surgeries correct vision by surgically reshaping the cornea using an excimer laser which allows the light to be focused clearly onto the retina without the need for glasses or contact lenses.
LASIK is performed by making an incision to create a flap of tissue from the outermost layers of the cornea. The laser is then used to treat the underlying corneal tissue and reshape it for clear vision. The corneal flap is then placed back on top of the treated area. LASIK is relatively painless with a fast recovery.
PRK is similar in that it recontours the cornea for clear vision.  Instead of creating a flap, the outer layer of the cornea is removed to expose an area for the laser to reshape. Because of this, a large corneal abrasion or open wound on the surface of the eye is created which requires a bandage soft contact lens. Recovery time is longer compared to LASIK but the end result is equivalent. Many people who are not candidates for LASIK may be good candidates for PRK.
A comprehensive eye examination by your optometrist, followed by a surgical consult is necessary to determine which procedure is the best option for you. There are benefits and drawbacks to both. Some patients are only candidates for one type of procedure over another which is determined based on several factors.
To determine your candidacy for refractive surgery your doctor will evaluate:
your overall health for systemic diseases that may impair your ability to heal such as autoimmune or immunodeficiency diseases
your corneal health including dry eye disease, thin corneas, irregular corneas, or corneal diseases such as keratoconus
your eyeglass prescription to determine stability
your retinal health to ensure there is no other ocular disease that would prevent you from achieving 20/20 vision after laser vision correction
your lifestyle and occupation as certain sports and jobs may limit your candidacy for some refractive surgeries
If your optometrist believes you are a candidate for refractive surgery, Wyomissing Optometric Center has strong relationships with several LASIK surgeons in the area. We can discuss and recommend a surgeon based on your needs.
Once you have a consultation with the surgeon and have the procedure performed, your doctor at Wyomissing Optometric Center will continue your post-operative care.
If you are not a candidate for LASIK or PRK, there are other surgical and nonsurgical interventions that we can discuss to achieve your goals.
LEARN, LIKE, FOLLOW,
SHARE!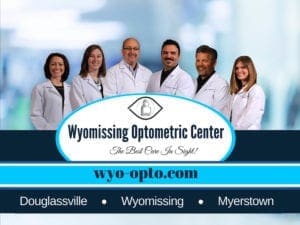 Locations
___________________________
Wyomissing
50 Berkshire Court
___________________________
Douglassville
1050 Ben Franklin Highway
___________________________
Myerstown
356 West Main Avenue
Useful Links
___________________