Ortho-K Retainer Therapy… no more glasses!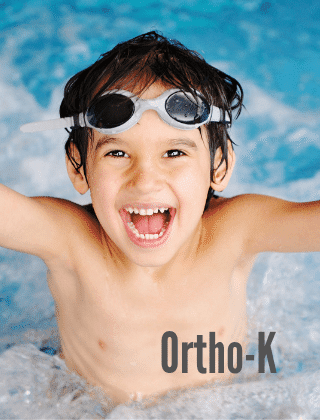 Can you imagine the joy of waking up in the morning and not having to wear glasses or contact lenses during the day? It would free you up for a host of activities that you may otherwise avoid because of your need to wear glasses or contact lenses.
There is a revolutionary non-surgical retainer treatment that improves your natural vision in a matter of hours – days – weeks. Your nearsightedness, farsightedness*, astigmatism*, and presbyopia* may improve dramatically within days after your first fitting with Ortho-K therapy.
This medical method is called Ortho-K, and it works. The Ortho-K procedure is achieved by wearing specially-designed retainers which have been custom designed to gently change the shape of your cornea (the front curvature of your eye) that will safely and gently improve your vision.
This marvelous method of vision improvement is accomplished by applying one or a series of accelerated retainers, worn while sleeping to attain better vision. Ortho-K is safe, effective, and best of all, non-surgical.
One very pleased patient wrote:
"What a great way to improve vision without surgery. I wore my ORTHO-K lenses for a week and what a difference it has made in my natural vision and correcting my nearsightedness. I can go all day without the help of glasses or contact lenses."
MAPPING YOUR CORNEA
Before Ortho-K retainers are applied to your eyes, we do a topographical map of your cornea (surface of your eye). This procedure is painless.
The elevation, shape, and power changes of the cornea are displayed with sophisticated colored maps along with a variety of other computerized data. This method of corneal mapping is used for analyzing the initial topography of the cornea and for subsequent changes as the corneal molding therapy progresses.
THE ACCELERATED ORTHO-K PROCEDURE
The reshaping of the cornea by means of corneal molding does not compromise the corneal integrity. The corneal tissue remains intact and is not removed as in refractive surgery. The same results can be achieved with Ortho-K, but are done so non-invasively.
HOW DOES ORTHO-K WORK?
Many patients ask, "How can a specially-designed and customized retainer possibly improve my vision without surgery?" Due to the skillful design of the retainer, when worn at night, they gently mold the central curvature of the front of the eye without removal of corneal tissue. This method of reshaping modifies the light refracting power of the cornea thereby reducing or eliminating nearsightedness, farsightedness*, astigmatism*, and presbyopia*.
The high-tech, therapeutic retainers are manufactured using carefully constructed lathes to create the rigid, gas-permeable material that allows enough oxygen to pass through the retainers, so that the cornea receives sufficient oxygen to allow the eye to remain healthy even while sleeping. Ortho-K has been an accepted vision improvement procedure for more than thirty years, though only recently has the procedure been accelerated to deliver the vision improvement in a shorter time.
RAPID IMPROVEMENT IN VISION
Most of the visual changes that occur rapidly with Ortho-K happen in the first few days and weeks. Because of the rapid improvement in vision, there is a need for frequent examinations and progressive lens changes. Following the accelerated change to better vision, stabilization procedures then follow at a slower pace over the next few months. The exciting aspect of Ortho-K is that for most patients it requires only hours a day to achieve better vision.
After treatment and maximum desired results are accomplished, retainers (like retainers on teeth) are worn as necessary to stabilize the results.
BENEFITS
• After correction, you see better without the help from glasses or daytime contact lens wear.
• Vision improvement occurs rapidly in days and weeks
• Free from surgical risk, the process is convenient and comfortable, without disrupting visual performance
• Children and adults can benefit
• Natural vision for recreation, sports, and leisure
• Occupational unaided vision demands may now be met: pilots, policemen, firemen
• Ortho-K is safe, rapid and effective
*Ortho-K is currently FDA approved for myopia and used off-label for farsightedness, astigmatism, myopia control, and presbyopia.
Learn more about Ortho-k from this video presented by All About Vision: