We are Berks and Lebanon Countys' leading eyewear and contact lens specialist.
We'll help you choose the most appropriate lens design for your prescription and lifestyle needs. We use only the highest quality optics and offer the most advanced lens designs available.
Our frame selection includes many exclusive high-fashion frame styles that are not available elsewhere in the area. These unique frame lines complement our wide range of frames to fit every budget.
At Wyomissing Optometric Center, we understand that properly designed eyewear that's fitted by knowledgeable, caring professionals is just as important as the accuracy of the doctor's prescription.
We are confident that you can find a pair of glasses that will fit your style and your budget. We are proud that our prices for comparable frames and lenses can not be beaten. 
Our in-house Optical Service Department laboratory boasts 3-D lens grinding technology that matches frame size and shape with lens prescription, thickness and curvature to create the finest-looking eyewear possible. Lens options, including multi-layer anti-reflective coatings, ultraviolet protection, ultra-thin aspheric designs and lens edge treatments, are just a few of the state-of-the-art options available to enhance your vision and appearance.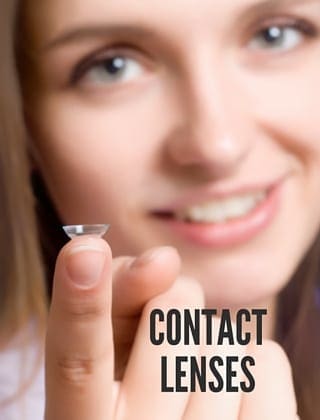 We have decades of experience prescribing and fitting contacts. We use the latest diagnostic equipment, such as the Oculus Keratograph to achieve the proper fit for the type of contact lens most appropriate for your needs.
We prescribe all types of contact lenses including:
Daily and 30-day extended wear soft contact lenses
Disposable and frequent replacement contact lenses
Bifocal contact lenses
Rigid gas permeable contact lenses
Colored contact lenses
Astigmatism contact lenses
Therapeutic contact lenses for disease or injury
Hybrid rigid gas permeable/soft contact lenses
Keratoconus contact lenses
Orthokeratology lenses
If you have a special need or difficult prescription, we are confident that we can prescribe the proper lenses for you.
We offer reasonably priced contact lenses. Our fees for contact lenses are no more than other suppliers, such as mail order, internet or commercial outlets. Often our cost is less.
What should I bring to the appointment? If new to Wyomissing Optometric Center, please bring a copy of your last contact lens prescription or your current boxes of contact lenses.
LEARN, LIKE, FOLLOW,
SHARE!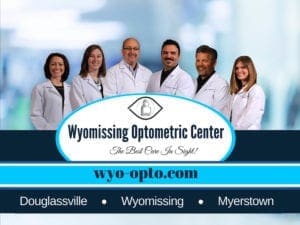 Locations
___________________________
Wyomissing
50 Berkshire Court
___________________________
Douglassville
1050 Ben Franklin Highway
___________________________
Myerstown
356 West Main Avenue
Useful Links
___________________