Wyomissing Optometric Center participates with most major insurance carriers. We accept most vision care and medical health plans.
If we are a participating provider for your plan, we will submit directly for reimbursement. Co-pays, deductibles, and non-covered serves fees are due at the time the services are rendered as we do not bill for our services. We accept cash, VISA, MasterCard, Discover, as well as debit cards for payment. Interest will be charged on any outstanding balances and accounts that are in arrears will be turned over to a collection agency outside of our practice.
Can my general medical health insurance help pay for my eye examination if I don't have a vision care plan?
In most cases where a medical eye condition exists (such as cataracts, glaucoma, retinal disease, injury, infection, allergy, dry eye disease, etc.) your general medical health insurance may provide coverage for the medical component of your eye examination. Co-pays, deductibles and non-covered services are the patient's financial responsibility. Insurance companies consider refraction as a non-medical, non-covered service.
If your insurance company requires a referral for services, you are responsible for obtaining and bringing it to your appointment. If a referral is not obtained, your appointment will need to be rescheduled. If you have any payment questions, please call our billing office at 610-374-3134.
LEARN, LIKE, FOLLOW,
SHARE!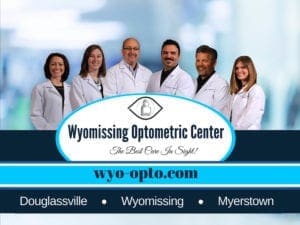 Locations
___________________________
Wyomissing
50 Berkshire Court
___________________________
Douglassville
1050 Ben Franklin Highway
___________________________
Myerstown
356 West Main Avenue
Useful Links
___________________