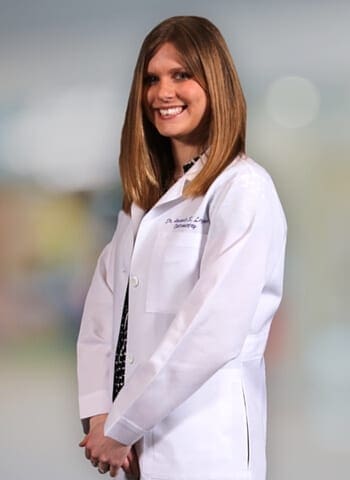 Dr. Legge has been an integral part of our professional team since 2012. She earned a B.S. in Biology from Wilkes University in Wilkes-Barre where she minored in Neuroscience, Chemistry and Theater Arts. She earned a B.S. in Visual Science and an O.D. degree from the Pennsylvania College of Optometry at Salus University in Philadelphia. She serves as a member of the Allied Health Professional Staff at Penn State Hershey St. Joseph Medical Center (inpatient consults and Emergency Department eye care).
Dr. Legge enjoys primary eye care with special interest in retinal diseases and macular degeneration, having earned a certification for advanced retinal studies during her academic and clinical training. She is a frequent lecturer on retinal diseases to fellow optometrists providing them with continuing education. She is a Faculty Advisor for the International Studies Master of Science in Clinical Optometry program at the Pennsylvania College of Optometry at Salus University. Dr. Legge is a VisionUSA doctor who provides free eye care to the working poor who are screened and referred by the Salvation Army. She participates in the national InfantSEE program, sponsored by the American Optometric Association, offering free vision and eye health screenings to 6-12 month old infants.
She is an active member of the Lions Club. In her spare time, Dr. Legge, and her pet dog, Riku, spend time comforting nursing home residents as they are both certified by Therapy Dog International. They also participate in the Tail Wagging Tutors program at local libraries which helps children improve their reading skills by reading aloud to Riku.
LEARN, LIKE, FOLLOW,
SHARE!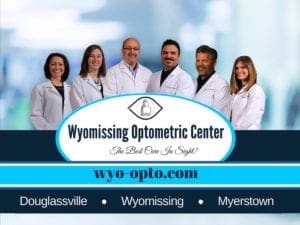 Locations
___________________________
Wyomissing
50 Berkshire Court
___________________________
Douglassville
1050 Ben Franklin Highway
___________________________
Myerstown
356 West Main Avenue
Useful Links
___________________