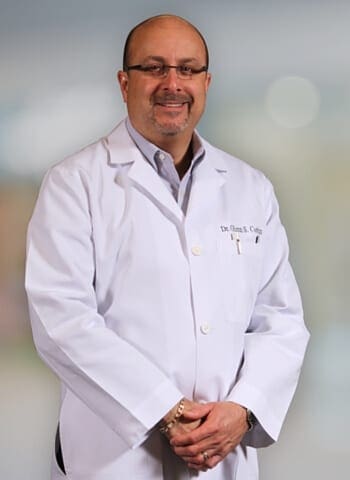 Dr. Corbin is well respected for his patience, compassion and high level of detail in caring for his patients. He communicates with his patients about their diagnosis and treatment options, encouraging them to play an active role in their care. As a recognized leader in healthcare, Dr. Corbin has created a practice culture embracing technology and the latest advances in medical eye care, attracting patients from a wide geographic area for his expertise.
Dr. Corbin earned a B.A. in Biology from Hofstra University in New York and a B.S. in Visual Science and O.D. degree from the Pennsylvania College of Optometry. Dr. Corbin currently serves as Chief of the Section of Optometry at Penn State Health St. Joseph Medical Center. He is on the Allied Health Medical Staff at Penn State Health St. Joseph Medical Center (inpatient consults and Emergency Department eye care) and serves as a Consulting Staff member at Health South Reading Rehabilitation Hospital. Dr. Corbin enjoys primary eye care practice, with special interest in glaucoma and ocular surface disease management (infection, allergy, inflammation, dry eye). He serves as Principal Investigator for numerous pharmaceutical companies in conducting clinical trials to test new medications and devices. Dr. Corbin is recognized for his lectures, both locally and nationally, and has authored numerous professional articles and contributed to several textbooks.  In 2014, he was selected as the "Pennsylvania College of Optometry Alumnus of the Year" for his contributions to Salus University/PCO and the profession of Optometry.
He serves our community as a member of Rotary International and is an active member on numerous boards and committees. Dr. Corbin is a VisionUSA doctor who provides free eye care to the working poor who are screened and referred by the Salvation Army. He is a Clinical Preceptor for the Pennsylvania College of Optometry at Salus University and the Illinois College of Optometry, training future doctors of optometry. In 2015, Dr. Corbin was recognized by his peers throughout Pennsylvania being awarded the Berks County "Optometrist of the Year" and the Pennsylvania Optometric Association "Optometrist of the Year." In addition, he was inducted into the Exeter Township School District "Academic Hall of Fame."
LEARN, LIKE, FOLLOW,
SHARE!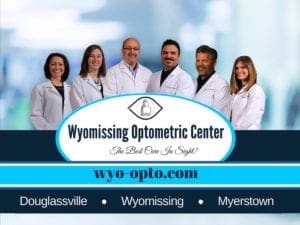 Locations
___________________________
Wyomissing
50 Berkshire Court
___________________________
Douglassville
1050 Ben Franklin Highway
___________________________
Myerstown
356 West Main Avenue
Useful Links
___________________