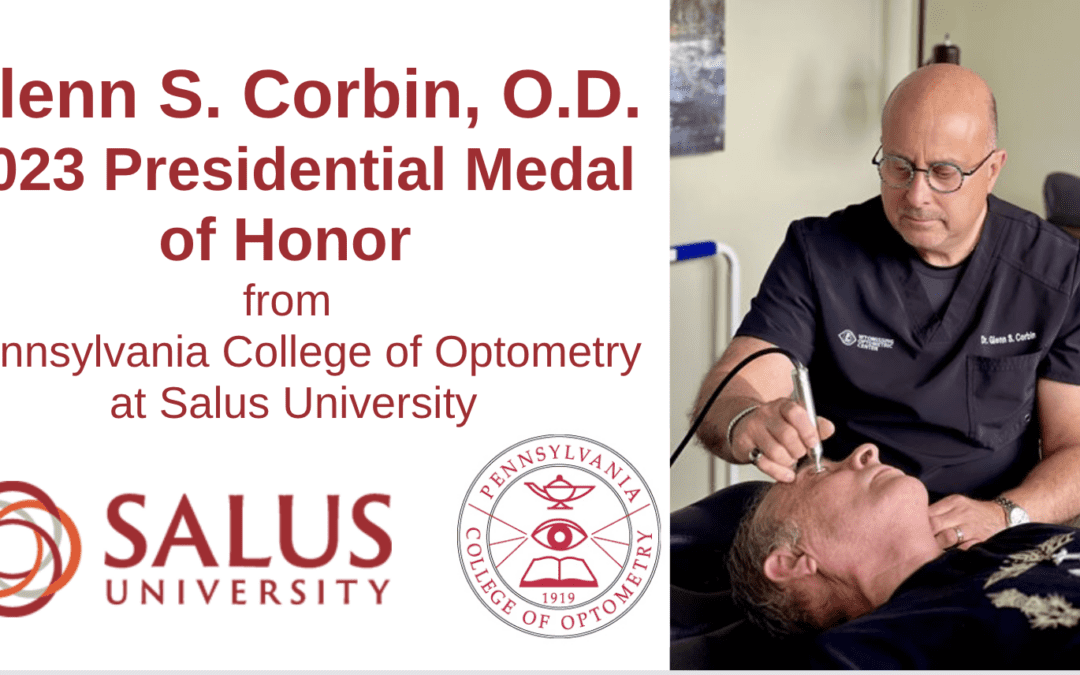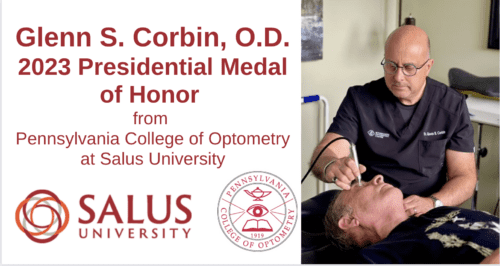 Join us as we proudly celebrate Dr. Glenn Corbin, an esteemed optometrist with a remarkable 41-year career, as he receives the prestigious 2023 Presidential Medal of Honor from  Pennsylvania College of Optometry (PCO) at Salus University. Dr. Corbin, who graduated from PCO in 1982, has dedicated himself to the field of optometry, leaving an indelible mark on both his profession and his students.
A Mentorship Legacy
Throughout his illustrious career, Dr. Corbin has mentored approximately 300 student interns from the Pennsylvania College of Optometry (PCO) at Salus University and the Illinois College of Optometry (ICO). His dedication to teaching and guidance has resulted in several of his former students becoming faculty members at PCO/Salus, including Andrew Gurwood, OD '89, Resident '90, FAAO; Holly Myers, OD '86, Resident '87; David Meltzer, OD '02, FAAO; Christin DeMoss, OD '17, Resident '18; and Nicholas Gidosh, OD '15. Two others, Kerry Burrell, OD '03, and Amanda Legge, OD '12, have become partners in Dr. Corbin's practice, further demonstrating the impact he has had on their careers.
Passion and Dedication Recognized
Dr. Corbin's commitment to the success of his students is unwavering, and he finds immense joy in witnessing their accomplishments. His dedication to the profession has not gone unnoticed, leading PCO/Salus to present him with its highest honor, the 2023 Presidential Medal of Honor. The award ceremony will take place on September 18, 2023, at the Morris Arboretum in Philadelphia.
Words of Appreciation
Dr. Andrew Gurwood, one of Dr. Corbin's former students, attests to his kindness, passion, and generosity in sharing knowledge and time. Dr. Corbin's exemplary leadership and dedication to the development of optometry in the state have left a lasting impact on the field.
A Journey of Excellence
Dr. Corbin's journey in optometry began in 1978 when he joined PCO, a time of exciting opportunities for both him and his classmates. Following his graduation from PCO, he joined the Wyomissing Optometric Center, where he immediately started teaching interns. Over the years, Dr. Corbin has played a pivotal role in building the practice into what it is today—a thriving establishment with six optometrists and 35 staff members across three locations in Pennsylvania: Wyomissing, Douglassville, and Myerstown.
Teaching the Art of Successful Practice
Dr. Christin DeMoss, who worked with Dr. Corbin during her third-year rotation, credits him with teaching her valuable insights on running a successful group OD practice. His unique practice model prioritizes an exceptional patient experience without compromising the quality of care, serving as an inspiring example for aspiring optometrists.
A Multifaceted Professional
In addition to his practice, Dr. Corbin holds the position of chief of optometry at Penn State Health St. Joseph Medical Center. He is also part of the Allied Health medical staff at the same medical center, where he performs inpatient consults and provides emergency department eye care. Furthermore, he serves as a consulting medical staff member at Encompass Health Rehabilitation Hospital of Reading, Pennsylvania.
A Commitment to Advancement
Dr. Corbin's practice focuses on primary eye care, with a special emphasis on glaucoma and ocular surface disease management. He serves as a principal investigator for numerous pharmaceutical companies, conducting FDA clinical trials to test new medications and devices. His expertise is widely recognized, with frequent local and national lectures, contributions to professional articles, and involvement in textbooks and professional journals. In recognition of his contributions, he received the Albert Fitch Memorial Alumnus of the Year award in 2014 from PCO/Salus and was named the Berks County "Optometrist of the Year" and the Pennsylvania Optometric Association state "Optometrist of the Year" in 2015.
Embracing Change
As the optometry profession has evolved over the years, Dr. Corbin has remained at the forefront, continuously adapting to advancements and new technologies. His passion for optometry and his commitment to his patients, colleagues, and students remain as strong as ever.
A Passion for Service
Despite reaching an age when many of his peers are retiring, Dr. Corbin has no plans of slowing down. His enduring love for his work, dedicated staff, and loyal patients keep him motivated to provide the highest level of care.
A Well-Deserved Recognition
The Presidential Medal of Honor, bestowed upon individuals who have made significant contributions to their profession and to Salus University, is a well-deserved recognition of Dr. Glenn Corbin's outstanding achievements and unwavering commitment to the field of optometry. We extend our heartfelt congratulations to Dr. Corbin on this remarkable accomplishment.
LEARN, LIKE, FOLLOW,
SHARE!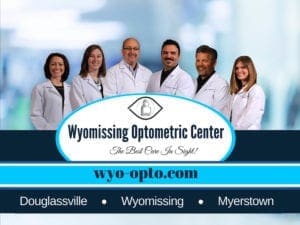 Locations
___________________________
Wyomissing
50 Berkshire Court
___________________________
Douglassville
1050 Ben Franklin Highway
___________________________
Myerstown
356 West Main Avenue
Useful Links
___________________